One North offers ongoing improvement and managed hosting services that provide a worry-free, predictable and high-touch experience for Sitecore clients. We go beyond "hosting." Our Managed Lifecycle services are designed to ensure Sitecore applications perform, thrive and grow. Looking for better performance, greater output and increased efficiency of resources? We might just be the perfect partner for you.
The gold standard
As a Gold Sitecore Solution Partner and a managed hosting provider for hundreds of the largest and most digitally-complex enterprise web applications, we have built a unique and compelling offering architected for redundancy, maintainability and security.
Whether you're looking to strengthen your technical foundation, increase your application's flexibility, or you're ready to take advantage of the latest release and advanced features, we have the experts and capabilities you need to get the most out of your Sitecore investment.
We provide end-to-end services for the vast majority of our clients, from ideation through brand, custom UX and UI, design, development (front-end and back-end), and managed support and hosting. This holistic approach enables deep collaboration and efficiencies, across our teams and with yours, resulting in truly unique client experiences and deliverables.
We'd love the opportunity to demonstrate how we can leverage our extensive experience to help you get the most out of your Sitecore investment. If you're interested in improving the value and service you get out of your Sitecore partner, complete the form below, and a One North rep will be in touch.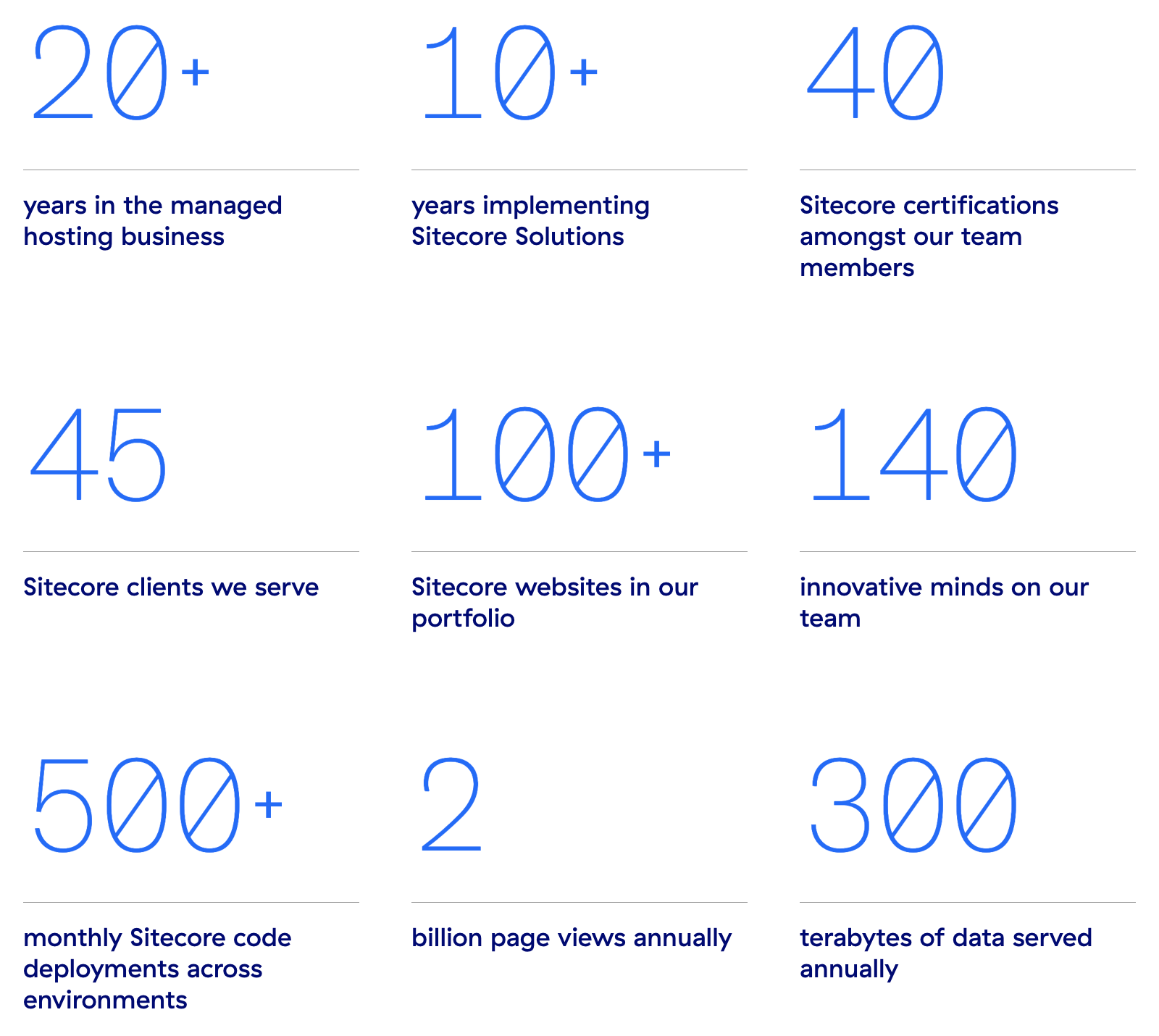 For a predictable monthly fee, a dedicated One North account team manages high-performance hosting in the Microsoft Azure cloud, application support and ongoing support for our Sitecore clients.
As part of the One North Managed Lifecycle service, our clients receive:
SLA with 24-hour emergency support

Troubleshooting and break-fix support

Application-level performance monitoring

Sitecore hotfixes and core patch installation

Fully managed hosting in Microsoft's Azure cloud

Disaster recovery and security protection
We offer the capabilities your Sitecore investment needs to perform
Architecture
Our architecture is self-watching with over 100 proactive watchpoints that indicate proactive maintenance and allow risk awareness and mitigation without any effort by the client, before the application is impacted.
Optimization
With One North, you get the benefit of scale. Although we approach each engagement with the personalization and customization it requires and deserves, we also leverage our decades of experience–and all the lessons and best practices learned along the way–to optimize our clients' applications.
Implementation
Each of our Sitecore implementations are built to be easy to maintain and update in the future, ensuring you're able to take full advantage of each advanced feature of Sitecore as you're ready for it–without the headache of fixing the foundation first.
Managed Hosting
One North provides managed hosting services for 88 percent of our clients. Our high-touch team of systems engineers manages over 10 million web requests on an average business day for the Sitecore sites we host and manage.
Maintenance
Your One North team will assemble a patch and upgrade schedule that ensures your Sitecore instance remains secure, performs as expected and matures to help you meet your evolving business goals.
Advanced Sitecore Features
One North can help you take advantage of features like:
Personalization
A/B Testing
Advanced Analytics
Campaigns/Landing Pages
Lead Scoring & Nurturing
Automated Emails
Complex Email Flows
Goals & Personas
"One North truly operationalized our Sitecore platform. Their expertise, thought leadership, and pragmatic approach helped us eliminate roadblocks, pay down technical debt, and improve the experiences we deliver."
—Rob Zanin, Executive Director, Digital Consumer Products at Wellstar Health System
"The One North team helped us strengthen our Sitecore foundation, uncovering efficiency and performance improvements. The migration process was straightforward and smooth, and our newly optimized Sitecore instance is more reliable, easier to maintain, and primed for strategic growth."
—John Barber, Marketing Technology Manager at Ballard Spahr LLP
RELATED CASE STUDIES & INSIGHTS